User of the Week: Kaylee G
Tue, 14 May 2019
As we all grow and become adults we are sometimes not aware of the moments that are passing by so fast; the places that we have seen or people that we've met brought us invaluable experience in every sense of personal growth. By sharing our adventures with other people we can inspire and encourage them to start pursuing their dreams. Our user of the week this week Kaylee G. is talking about her backpacking experience whilst inspiring other people and taking full advantages of what the travel life offers. Among all of her stunning trip posts, we have decided to select one about her hiking and backpacking experience through the Appalachian Trail.
Can you tell us a bit about yourself?
I've been an avid traveller since I was sixteen years old and took a multi-country trip across Europe. Taking such a trip so young while I was still shaping into the person I am gave me an intense desire to keep on going places, no matter where they may be. I've been to Italy quite a few times for different reasons; I have Italian heritage and have always felt tied to the country. Most recently, I taught ESL there for the summer while working with a camp program called ACLE. I've also backpacked across much of Southern Europe (Italy, Croatia, Montenegro, Bosnia, and Slovenia) and almost all of the United Kingdom and Ireland. When I'm not travelling, I'm a student at The University of Delaware studying Public Policy, Writing, and Italian. After graduation I'd love to join the Peace Corps and then after that, go to law school. I'm also a distance runner, not competitively just for fun!
What do you always take with you when travel?
I have a lot of essentials like a microfiber towel (it's super multi-functional as a bath towel, beach towel, and even a curtain to separate myself from others in a hostel), my noise cancelling Beats (nothing drowns out the sounds of public transportation better than these), and a book to read in any downtime I may have. When travelling I like to collect a postcard from each place I go. I accumulate quite the stack of these on longer trips.
Do you enjoy using Alpacr app and why?
I've been enjoying the app a great deal because on top of having the opportunity to share some of my trips and photography, it's a great way for me to document all of the places I've been and things I've done in a way that I can't on other social media platforms or a blog.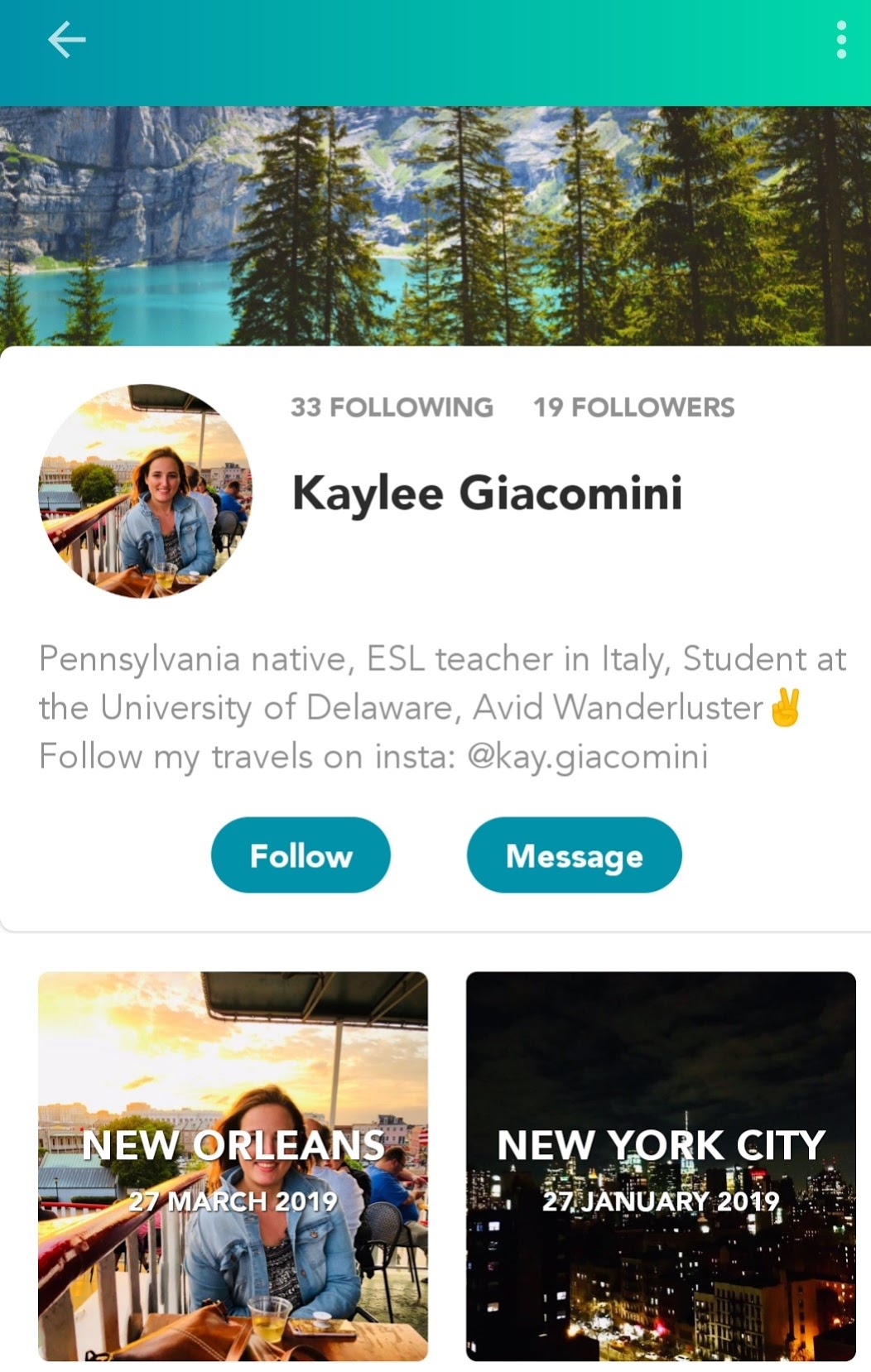 Kaylee's profile on Alpacr
Trip Post: Hiking the Appalachian Trail
'There is a phenomenon called trail magic, known and spoken by everyone who hikes the trail, which holds that often when things look darkest some little piece of serendipity comes along to put you back on a heavenly plane' – Bill Bryson
On this trip, I hiked nearly 100 miles of the portion of the AT stretching from Southern Pennsylvania all the way through Maryland and ending in Harper's Ferry, West Virginia.
I had very minimal experience hiking and carrying a 40 lb backpack up mountains and over rocks was anything but easy, but I wasn't there for easy. I was hiking to challenge myself into doing something uncomfortable and slightly painful. Do this trip if you're looking to get calves of steel and plenty of mountainous overlooks committed to heart.
The photos in this series are grainy and low quality; I was only allowed a tiny disposable camera by my trip advisor. However, the feelings that they generate for me make up the photo quality.
Follow Kaylee on her Instagram channel @kay.giacomini and Alpacr for more travel inspiration!
Meet last weeks User of the Week: Laura Butler and her blog here.